Buick Enclave: Specifications, Diagnostic Information and Procedures
SPECIFICATIONS
FASTENER TIGHTENING SPECIFICATIONS
Fastener Tightening Specifications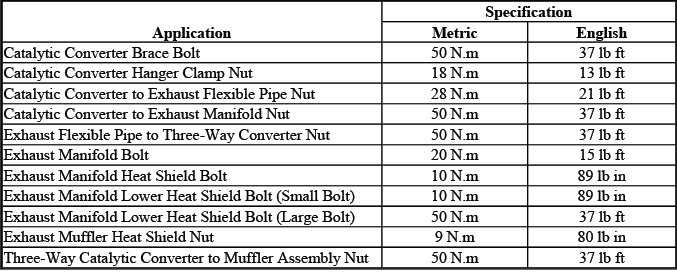 DIAGNOSTIC INFORMATION AND PROCEDURES
SYMPTOMS - ENGINE EXHAUST
Review the exhaust system description in order to familiarize yourself with the exhaust system components and the intended function of the components. Refer to Exhaust System Description.
All diagnostics on a vehicle should follow a logical process. Strategy Based Diagnostics is a uniform approach for repairing all systems. The diagnostic flow is the place to start when repairs are necessary and may always be used in order to resolve a system problem. For a detailed explanation, refer to Strategy Based Diagnosis.
Visual/Physical Inspection
Inspect for aftermarket or non-OEM devices such as, but not limited to; tailpipe extensions, headers and exhaust cutouts. Any aftermarket exhaust system devices could affect the operation and proper performance of the exhaust system.
Verify the exact operating conditions under which the concern exists. Note factors such as engine RPM, engine temperature, engine load and frequency of concern.
Inspect the easily accessible or visible system components for obvious damage or conditions which could cause any symptom.
Intermittent
Test the vehicle under the same conditions that the customer reported in order to verify the system is operating as designed.
Symptom List
Refer to a symptom diagnostic procedure from the following list in order to diagnose the symptom:
Loss of power
Poor acceleration
Poor fuel economy
Excessive smoke diesel
Exhaust hissing noise
Exhaust popping noise
Exhaust rattle noise
Loud exhaust noise
Exhaust buzz, groan, hum noise
RESTRICTED EXHAUST
Special Tools
J-35314-A Exhaust Back Pressure Gauge
Diagnostic Aids
WARNING: Refer to Hot Exhaust System Warning.
For dual exhaust systems a quick check of exhaust flow will help determine which side of the exhaust system is restricted. The side that has less exhaust flow is the side that will be suspect and diagnosis should begin there.
Test Description
The numbers below refer to the step numbers on the diagnostic table.
4
The exhaust system has very low back pressure under normal conditions. If the exhaust system is restricted, a significant increase in the exhaust pressure is noticed on the J-35314-A gauge.
Removing the HO2S sensor may set a DTC. When finishing this diagnostic table, be sure to clear all codes.
5
This step will isolate the catalytic converter from the remainder of the exhaust system.
8
Confirming that the condition has been fixed is essential. If the symptom still exists and the vehicle has a dual exhaust system, proceed to step 2 and repeat diagnostic procedure on the opposite exhaust pipe.
Restricted Exhaust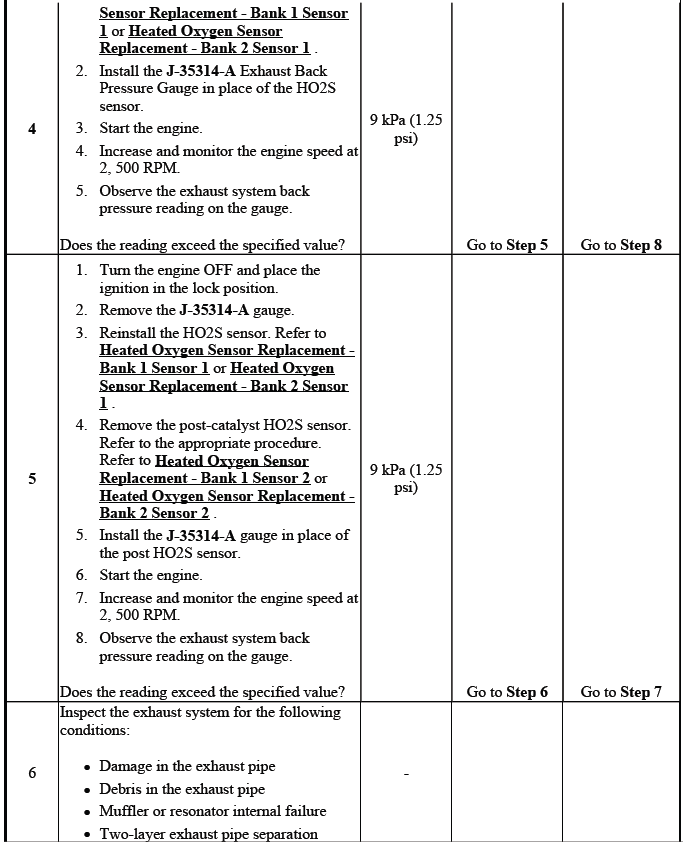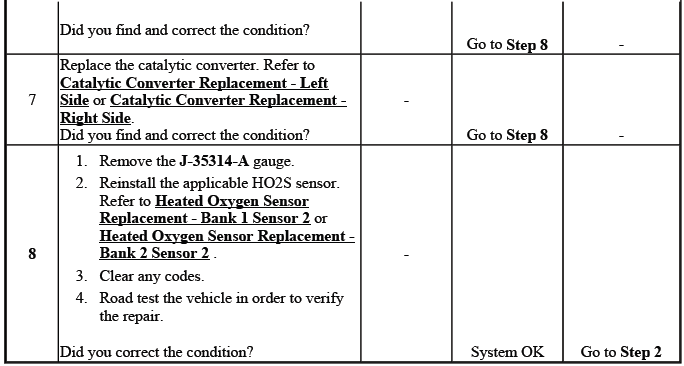 EXHAUST LEAKAGE
Exhaust Leakage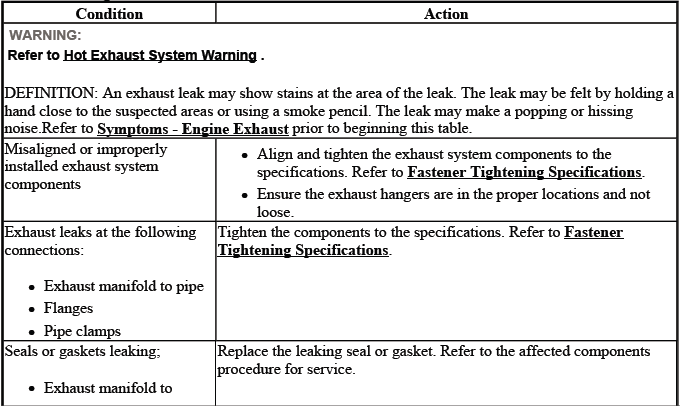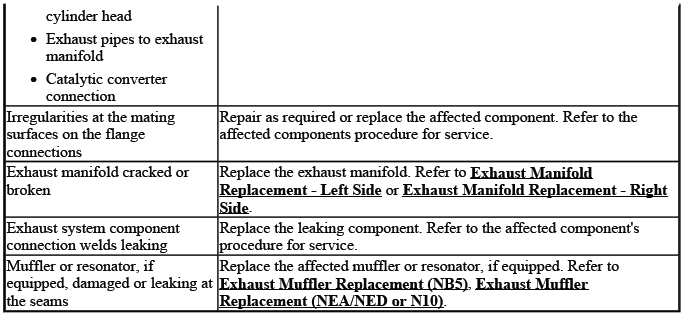 EXHAUST NOISE
Exhaust Noise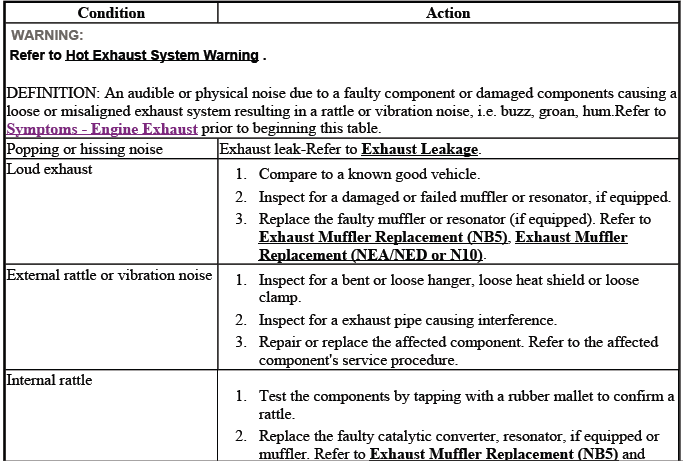 READ NEXT:
EXHAUST MANIFOLD REPLACEMENT - LEFT SIDE Removal Procedure WARNING: Refer to Exhaust Service Warning. WARNING: Refer to Protective Goggles and Glove Warning. 1. Remove the exhaust manifold heat shield
EXHAUST SYSTEM DESCRIPTION IMPORTANT: Use of non-OEM parts may cause driveability concerns. The exhaust system carries exhaust gases, treated by the catalytic converter, through a resonator, if appli
SEE MORE:
Buick encourages customers to call the toll-free number for assistance. However, if a customer wishes to write or e-mail Buick, the letter should be addressed to: United States Buick Customer Assistance Center P.O. Box 33136 Detroit, MI 48232-5136 www.Buick.com 1-800-521-7300 1-800-832-842
Windshield wiper blades should be inspected for wear or cracking. See Maintenance Schedule for more information. Replacement blades come in different types and are removed in different ways. To replace the wiper blade assembly: 1. Pull the windshield wiper arm away from the windshield.
© 2016-2023 Copyright www.benclave.com